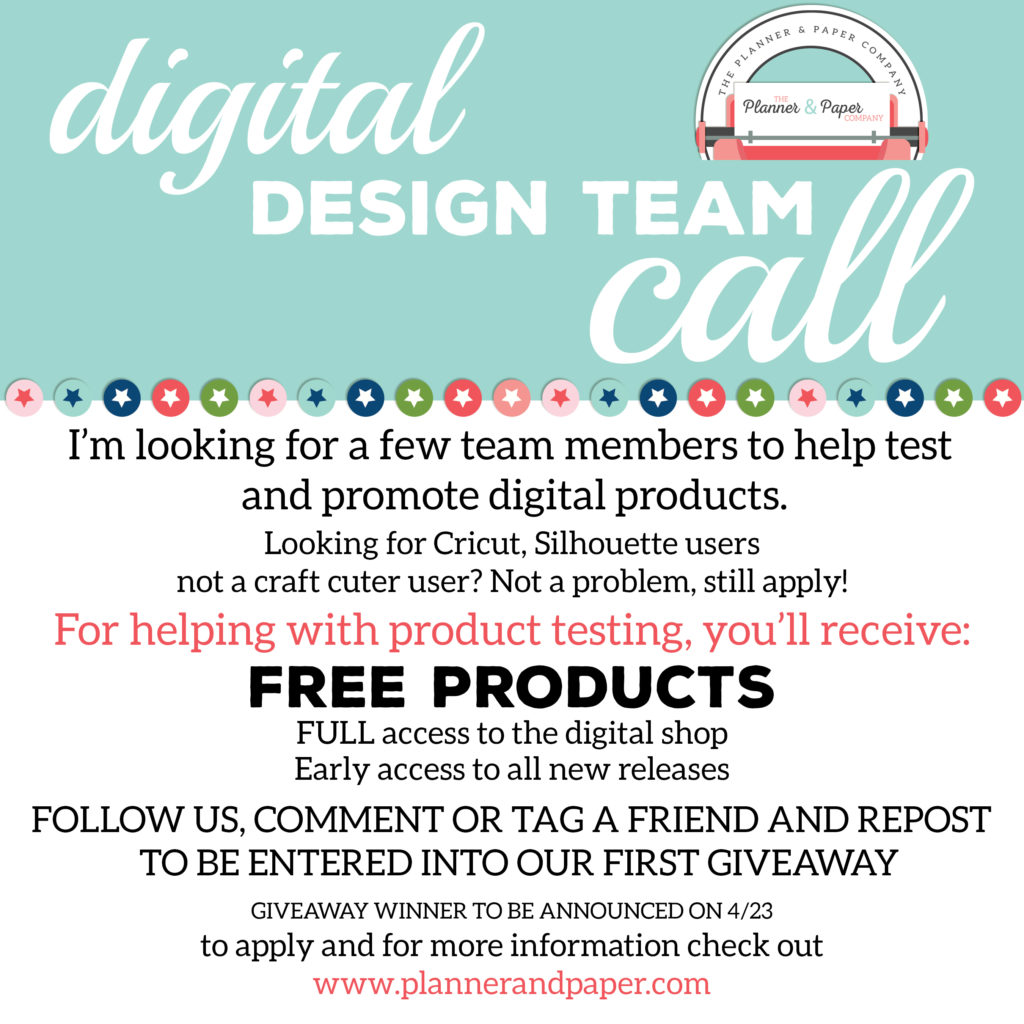 I'm looking for a Digital Design Team! I need help testing product. It's great if I can get it to print and cut exactly how it's supposed to, but I can make a fix and it work here but I need someone, besides me, to test digital products.
what am I looking for?
I'm looking for a few team members to help me test all upcoming new digital releases. I'm looking for team members who have a Cricut or Silhouette or anyone willing to print and then cut stickers by hand. What I'm really looking for is other sets of eyes that haven't been staring at these files for days to help me find any issues, should there be one. If it's a print issue, a cut issue, or if there are typos, images I didn't delete etc. etc. I want to know. You'll be working one-on-one with me, giving me feedback on any errors that may be found and help me with product development. I'm open to ideas, suggestions or making a product that works better for you, the user.
what are the benefits?
You'll receive all new releases ahead of the release schedule to allow for you to print, cut, give feedback and create with my products. You'll have full access to the digital shop, so if there's a previous release you'd like to use, then you're free to do so. All I'm asking in return is for your honest feedback, and you share your spreads on your blog and social media accounts with a tag and hashtag back to me.
how to apply:
Does this sound like something you'd be interested in? Then lets talk! To apply, send me an email, kate@18.216.5.139 , subject: Design Team Application with the following:
a brief bio, I want to get to know you
which planner you use – right now products are sized to fit Erin Condren Planners, but I have plans to release products for Happy Planner Classic and the Mini.
which craft cutter – or not, that you would be using to cut my product.
A link to your blog – if you have one.
Your Social Media accounts – this way I can follow you too
Something witty. I have a pretty good sense of humor and enjoy a good laugh every now and then, so say something to make me laugh!
This Design Team Call will stay open until I have filled all of the available slots on the team.
Want to join in on the giveaway? Head on over to our Instagram account and follow, comment or tag a friend and repost to be entered into our first giveaway. I'll be posting more details later this week. Giveaway winner will be announced on 4/23.
I look forward to hearing from you!