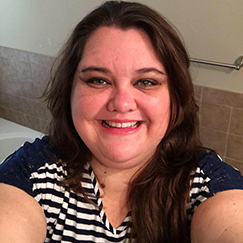 Meet Kate, a graphic designer and memory keeper. Kate lives in sunny Florida, just outside of Orlando, on the east coast, where she resides with her husband and two children.  
As a self-taught graphic designer, who is proficient with Adobe PhotoShop and Illustrator. Kate has worked with several small businesses providing them graphic design work, along with owning several small businesses of her own, featuring her work. 
Kate started scrapbooking in 2004 and made the switch to digital scrapbooking in 2008. From there she started documenting her life in the Project Life/every day format and has continued to do so since 2011. The skills she developed while working on documenting her family's memories, are what lead her to creating Planner & Paper. 
Kate has had several of her scrapbook layouts published in scrapbooking magazines and has been  featured on the Gallery Standouts Blog .