** A Copy of Dead Letters was provided by the publisher and NetGalley in exchange for an honest review **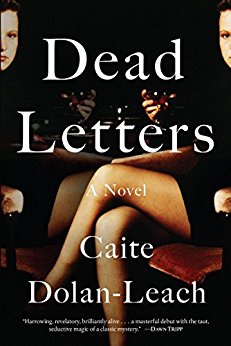 Dead Letters by Caite Dolan-Leach 
2 out of 5 Stars
*Synopsis below is from Good Reads*
A missing woman leads her twin sister on a twisted scavenger hunt in this clever debut novel of suspense for readers of Luckiest Girl Alive and Reconstructing Amelia.
Ahoy, Ava! Welcome home, my sweet jet-setting twin! So glad you were able to wrest yourself away from your dazzling life in the City of Light; I hope my death hasn't interrupted anything too crucial.
Ava Antipova has her reasons for running away: a failing family vineyard, a romantic betrayal, a mercurial sister, an absent father, a mother slipping into dementia. In Paris, Ava renounces her terribly practical undergraduate degree, acquires a French boyfriend and a taste for much better wine, and erases her past. Two years later, she must return to upstate New York. Her twin sister, Zelda, is dead.
Featuring a colorful, raucous cast of characters, Caite Dolan-Leach's debut thriller takes readers on a literary scavenger hunt for clues concealed throughout the seemingly idyllic wine country, hidden in plain sight on social media, and buried at the heart of one tremendously dysfunctional, utterly unforgettable family.
---
Just a quick browse of the reviews on Good Reads before I post mine makes me wonder if we even read the same book. I found that this book was slow to start, the use of big "uncommon" words made it some work to read and the plot didn't make me want to keep picking up my Kindle.
I'm well read, but the use of the larger words made it that I had to keep pausing to define to make sense of the sentence; then re-reading the sentence to figure out the context of what was going on, was a put-off for me. It felt like at times there was a larger word used when really the simpleness of using "family" (for example) would've sufficed. When I read I like to enjoy it, I make sure I carve out time during my busy schedule to read, and I felt like with the beginning of this book I had to work to read it.
The plot really didn't start to get interesting to me until the 80% in mark. Then I wanted to know what Zelda was really up to, how this was all going to pan out and have some dramatic twist that I REALLY didn't see coming.. and then it didn't. I'm not sure I felt/saw the suspense during the entire book, it wasn't a huge climax at the end, it was rather lack luster and kind of how I saw it ending.
I hate giving books a 2, because I feel like there are always good things you can find in a book, something you enjoyed, but for me this one fell flat. I also hate that this is the first book I received from NetGalley and I didn't enjoy it as much as I was hoping to. Maybe I'm missing something.. If I did, let me know!