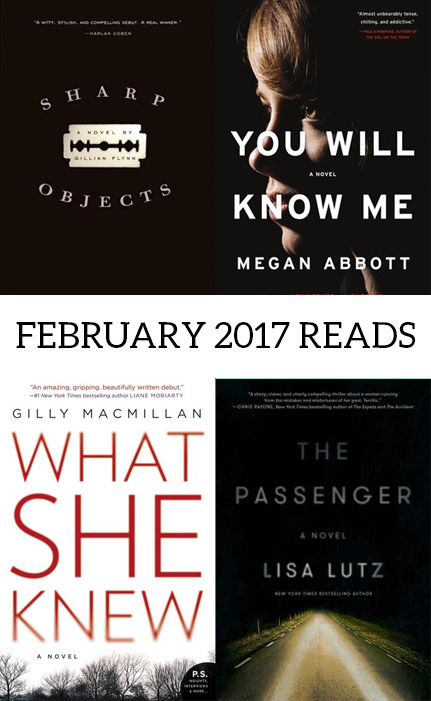 Once a month, hopefully closer to the first of each month, I'm going to try and review the books I've read over the course of the month. Some months I read A LOT, and others not so much. I have just started reviewing advanced copies of books through Net Galley, which I'm excited about, so there will be times when a few of the books I review will be advanced copies – I'll be sure to note the publishing date; if you're interested in the book. I've noticed in some online arenas that Advanced Reader Copies are abbreviated to ARC's. I'm not sure I'll be using the term, but just a heads up if you see it around Good Reads or Amazon, that's what it means.
Now that I've explained my plan to review books monthly,  let's take a look at the ones I read for February, shall we? I have linked all of the books to amazon via an affiliate link, if you'd like to pick up a copy of any of these books.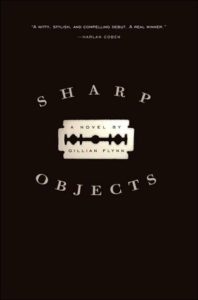 Sharp Objects by Gillian Flynn
4 out of 5 stars
Fresh from a brief stay at a psych hospital, reporter Camille Preaker faces a troubling assignment: she must return to her tiny hometown to cover the murders of two preteen girls. For years, Camille has hardly spoken to her neurotic, hypochondriac mother or to the half-sister she barely knows, a beautiful thirteen-year-old with an eerie grip on the town. Now, installed in her old bedroom in her family's Victorian mansion, Camille finds herself identifying with the young victims—a bit too strongly. Dogged by her own demons, she must unravel the psychological puzzle of her own past if she wants to get the story—and survive this homecoming.
For me, this book was better than Gone Girl
(I know.. boo, hiss and all that). While I enjoyed Gone Girl, this for me was more gripping, more of a page turner and I couldn't put it down. It's a fast paced, twisted story that held me from the first page to the very last. If you're into psychological thrillers, add this to your book stack, you'll thank me later.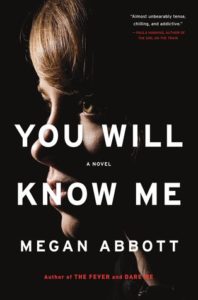 You Will Know Me: A Novel by Megan Abbott
3 out of 5 stars
Katie and Eric Knox have dedicated their lives to their fifteen-year-old daughter Devon, a gymnastics prodigy and Olympic hopeful. But when a violent death rocks their close-knit gymnastics community just weeks before an all-important competition, everything the Knoxes have worked so hard for feels suddenly at risk. As rumors swirl among the other parents, revealing hidden plots and allegiances, Katie tries frantically to hold her family together while also finding herself drawn, irresistibly, to the crime itself, and the dark corners it threatens to illuminate. From a writer with "exceptional gifts for making nerves jangle and skin crawl," (Janet Maslin) You Will Know Me is a breathless roller coaster of a novel about the desperate limits of desire, jealousy, and ambition.
This started out slow and then picked up the pace. I have to say that I feel as though the accident where Devon gets hurt is regurgitated a little more than it needs to be. I get that it explains why Devon started in gymnastics, but the book references the injury way more than I felt was necessary. This wasn't a bad book, it was an easy, quick read that was a little predictable and repeated itself about the accident.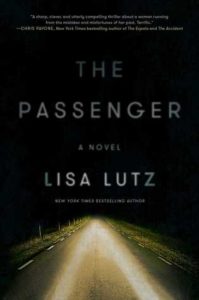 The Passenger by Lisa Lutz
4 out of 5 stars
Forty-eight hours after leaving her husband's body at the base of the stairs, Tanya Dubois cashes in her credit cards, dyes her hair brown, demands a new name from a shadowy voice over the phone, and flees town. It's not the first time. With heart-stopping escapes and devious deceptions, The Passenger is an amazing psychological thriller about defining yourself while you pursue your path to survival. One thing is certain: the ride will leave you breathless.
I read this in a day. Yes, I may have ignored my family for most of the day, but I couldn't put this down. From the first paragraph in the book until the end, I couldn't stop reading. All I wanted to know was what is Tanya running from and why did she feel the need to run? I really liked the story line and how fast paced this book was. If I say anything more, I feel I'll reveal too much.. just read it… trust me!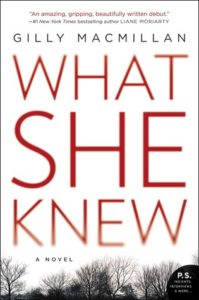 What She Knew: A Novel by Gilly Macmillan
2 out of 5 stars
This is a debut novel by Gilly Macmillan, which has been compared to The Girl on the Train. I for one do not see the comparison being similar at all.
The book is about Ben, an 8 year-old boy, goes missing from the woods while on a walk with his Mom, Rachel Jenner, and the search for him over the course of 9 days. The books perspective "flickers" between Rachel Jenner and Jim Clemo, a Detective for the Bristol Police Department. The suspicion/suspect changes several times during the book, which psychological thriller doesn't do this?, but it also wasn't a huge twist. It seemed as though the ending wasn't planned out as well as it could've been. I wish there had been an underlying story line that would've made more sense with the big reveal of who actually had Ben at the end of this book.
I don't think I've ever given a book a 2 star rating; well, there's those that I haven't finished, but I don't rate those anyway.
This wasn't terrible, it wasn't poorly written, but I felt like the story was drawn out and slow paced. I typically read fast, but this was a book that I just didn't want to pick back up and finish – it's taken me over a month to read this. I'm sitting here thinking "what?" It's not even a book with a huge plot twist that has thrown me off or made me wonder where that came from; it's just left me with a lot of "what happened" questions.
Maybe I've read some really stellar reads recently and this didn't hold up to them, but I was hoping since I'd heard great things about this book, that this was going to be a stellar read for me as well.
That's it for this month. I'm hoping to read a little bit more next month, as I currently have 2 advanced copy books to read and review.