I feel like I'm spending RIDICULOUS amounts of hours at my desk on my laptop and not getting anywhere. I'm sure it feels like I'm posting teaser posts on Instagram and it seems like I have so much done, but yet I'm not sharing anything with anyone. I PROMISE, I'm working as hard as one could work to get everything accomplished in order to open the shop. I am that "A typical" person who wants everything to be perfect and until it's perfect it's not happening. But, I'm close. Like REAL close to having everything ready and opening the shop. I just want everything to be, well perfect.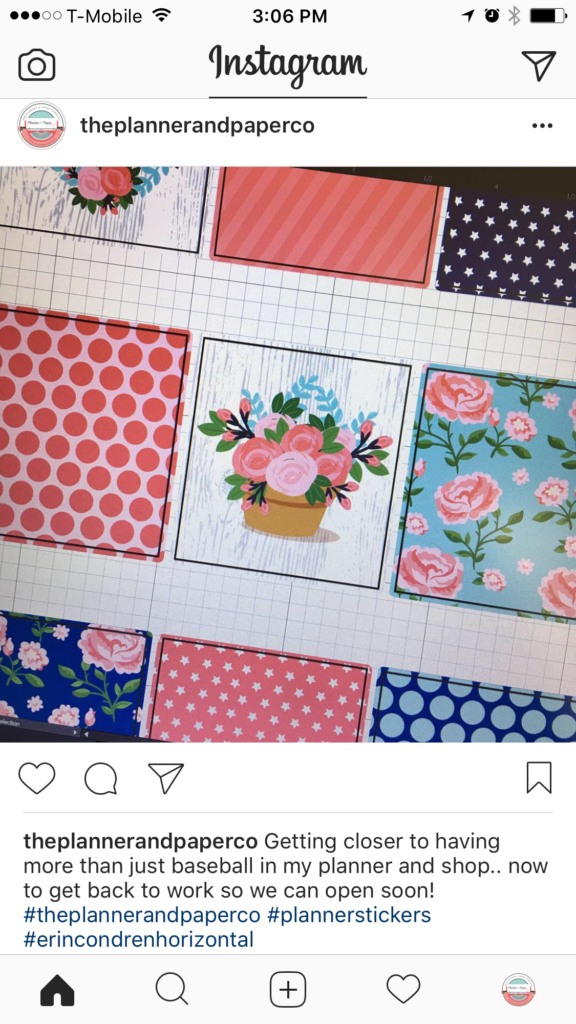 The plan for the next few months is to offer the sticker collections in digital format only. I'm still researching printing companies and the most efficient way to cut the stickers once they're printed. Once I have everything squared away, I will be releasing stickers in physical paper format as well. It's just finding what's going to be best for Planner & Paper and of course the customer. I don't want to rush and always be in firefighting mode and let things get so overwhelming and rushed that it's not a great final product. For the most part I am a one man show. I'm the graphic designer, blog writer, photo taker, photo editor and shop lister, the only thing I am not physically making is the planner charms. That's the Bestie. I'm not that talented with beads – my patience gets the better of me, so I enlisted her help and she does a beautiful job. I just want to make sure that all of the products that are available from Planner & Paper are great products that meet everyone's expectations. I've been on the other side of this and received something that I ordered, that looked great online and then thought "oh, maybe I shouldn't have ordered it.. I don't like it". I don't want that to be the experience with Planner & Paper. I want what you see online, to be the same tangible product you receive in the mail.
Even with the digital files, I have meticulously poured my heart and soul into them. I have sat here for hours picking a theme, creating the graphics, picking the right colors, laying out all of the template files – this should speed up my process for future products and then my hard drive crashed. So then I had to turn around and rebuild everything from scratch. The baseball and Band products are a redo. I won't rehash it all, I've already explained this before, but it's all been time that I wish I could've just had the shop open and moved on to other things. I have also tirelessly printed and tested at least one sheet of each product. I've tested, tweaked and then tested again the Print then Cut for Cricut so that not just Silhouette users can use their craft cutter to cut out my products. That was an important part for me. Not everyone has a Silhouette and I can't imagine cutting out all of those stickers by hand. If you do, YOU ARE A SUPER STAR!
I want Planner & Paper's brand to be one that you, the customer, can trust. Know that what I'm sending you, whether it be a physical product or a digital one has been tested and will be exactly what you're expecting.
That being said, I have had a few set backs. Like when I started exporting the cut files for Silhouette, I found issues that I've had to fix. Cricut files that I've had to fix, re-export, retest and then fix a little bit more. It's all growing pains. I would much rather that I find these issues, fix them and only give you a polished, perfect, product. I have since resolved the issues with the cut files and moved on, but it's all time I feel that I've wasted when I just want to get this all up and into the store. I know I have to fix the files, not just for the upcoming products but for any future products as well. I felt like I was taking 3 steps forward and then I'd run into an issue and take 12 back.
I also know that once I get the shop open I won't be sitting here for hours working on a TON of product all at one time. I won't be previewing over 54 items in one big batch. I won't be designing business cards, customer thank you's and packaging for physical products. That's now all done. Now it's just sending them to Staples to get reprints, unless I need to change some piece of information, which is a quick change and then a save. it won't be everything from scratch.  I'd love to blog more. I feel as though I've not utilized the blog as much as I could as I've been so focused on trying to get the sticker files finished.
I have been posting A LOT of the behind the scenes stuff on Instagram. I'm hoping to be as transparent about the whole process as possible – hence this post. I feel that being honest about "what's taking me so long" is the best way to stand behind my brand. I want to involve you, those that follow me, potential customers, in my excitement as we get closer to opening day; because for me.. this is big. This is months and months of planning, and hours at my computer. Hours of my kitchen looking like a bomb went off because I had to take photos to get the perfect shot to use in the shop. Hours of me bugging my Husband about helping me set up the blog, set up a shop, "how do I fix this on the blog" – having a web developer as a spouse has it's perks – and then the trying to talk myself out of doing this at all. Trust me, it's happened. More times than I'd probably like to admit. It's okay to be nervous. I know this isn't going to be a HUGE over night success that's going to make me millions. Would I like it to? Absolutely, but that's not why I started down this road. Shoot, up until a couple of days ago, I'd never stuck more than a few dot stickers in my planner. Now I'm wanting to stick all kinds of things in there! I want to make pretty, but functional planner stickers and hope someone besides myself uses them.
So, as of today, I'm here to tell you that I'm making progress. I'm closer to an opening day than I was when I first originally posted about being "close", which in hindsight, I was just SUPER excited and thought "oh I can have that done in a jiffy.." if only that Kate knew what I know now! I've learnt a lot in the past month, that I can't rush this process, once I'm up and running, it'll be a little easier – not so much testing or fixing files (please, please let that be so!) and not the bulk amount of product to preview, photograph, watermark and load into the shop at once.
Bare with me. All of the goodness is coming.