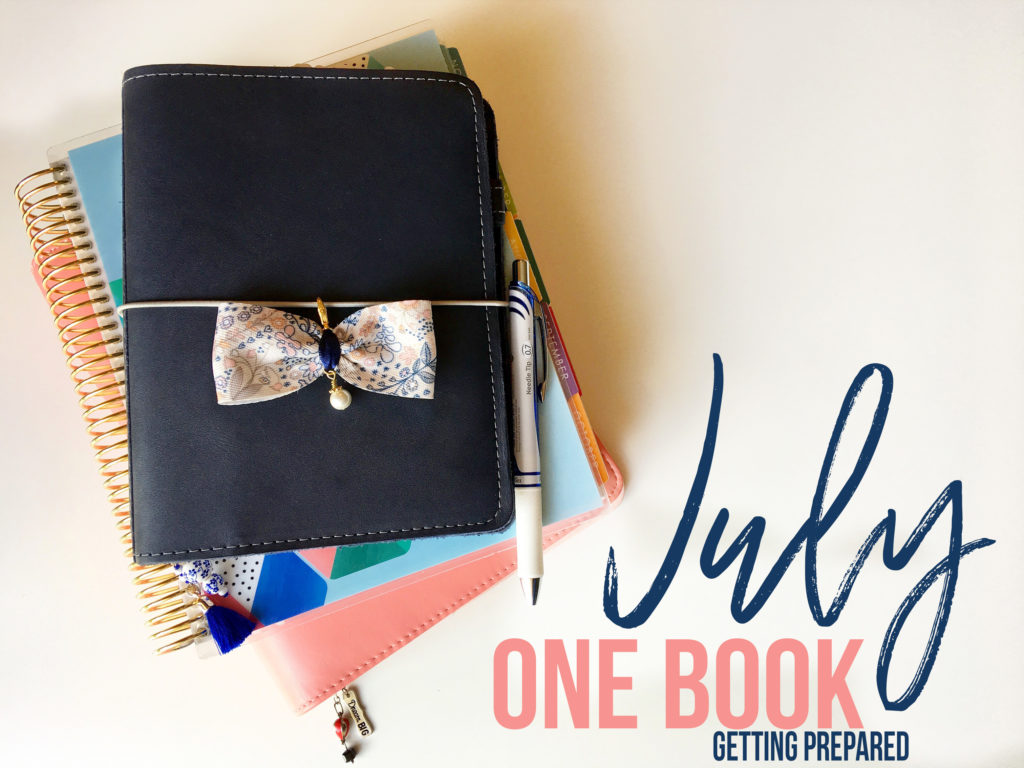 Now that I've decided to participate in One Book July and really thought about my reason why, I now need to set up my planner system. Of course I could just stay with what I am currently planning in, a B6 traveler's notebook and an Erin Condren hourly life planner. But to be honest, the Erin Condren planner isn't working for me. Over the course of the past month I have been planner hopping trying to find something that works for me; stumbling upon One Book July, when I did, was perfect timing!
I have made the decision to use a Webster's Pages A5 ring bound planner, as my main planner, and my B6 Foxy Fix Boss Babe Kate travelers notebook as the books that will hold my system. I know what you're thinking: but wait.. that's 2 planners! And it is, but I'm planning on using one system; not just one book. The system will be one set of inserts, that are sized to fit both planners, so that I have an identical set-up in both planners. That's it, nothing fancy; as I need to figure out what works for me. I think I have fallen into the "ooh look at this" and then I don't know how to use it. This time I chose inserts based upon my needs, not how pretty someone else made them on Instagram.
I will have one section in each planner that will be different, but each planner has a slightly different use. The A5 ring planner will be sitting on my desk 99% of the time, whereas the travelers notebook will be my every day, throw in my purse planner. The A5 will house all of my business plans and the B6 will have a meal planning insert. For now, those are the only differences that I foresee them having. That could all change though as July goes on.
How did I choose a weekly layout that worked for me? It took me hours of window shopping; checking all of my favorite planner shops and looking at weekly layouts to see if I could find what I was wanting. I used to use the Do-it-All Mom planner, back in 2010-2011, when I was in college and it worked PERFECTLY for my needs. It had sections for each person in the family and one big space for for Mom. Right now we do not have a lot going on as it's summer break, but once school starts in August, we are going to be SUPER busy. Business trips, meetings, marching band season, baseball, school holidays and Planner & Paper plans. I want to be able to see everything all in one go, but have it be organized and easy to read. I'm worried if I stay in the current planners I have been using, the information will get overwhelming or lost. I looked at ordering a teacher planner or a Plum Paper Planner with the ME layout, but that didn't help me when it came to my B6. I really felt that having the same insert would be beneficial – even if that meant sitting here and designing my own.
Then I found that LimeLife Planners had EXACTLY what I was looking for. A layout that fit both the A5 planner and my B6! It was almost the same set-up as the Do-it-All Mom planner! SCORE! I'm planning to use the top 2 boxes for Planner & Paper planning, then one box for myself, the Hubs, the Girl and last but not least the Boy. I downloaded the A5 sample layout from LimeLife Planners and modified it a little to suit my needs. If after this trial run in July, the layout works for me, I will be trying to purchase a customized version. I did purchase the B6 printable version, it's this one, so that I had the same layout in my travelers notebook. If you're not a big printable fan, LimeLife does offer this layout in a printed format.
For the monthly layout, I already have a B6 insert that I have been using since I made the switch to a travelers notebook, so I will continue with that insert; and then I purchased this from Printable Pineapple. Super simple layout and perfect for my needs. This wasn't about just shopping and buying all the planner things – although, that could've TOTALLY happened. It was about finding what was going to suit my needs.
I did also try and find inserts that were going to fit my needs for the business. I know I have a space in the weekly inserts I chose, but I also need a place to jot down ideas, to-do's etc and that isn't fitting all in those small boxes on the layout. That layout is meant to be an overview. Just a glimpse at what everyone is doing during the week, not so much a detailed plan.
I have, in this planning process, realized that I try to track too much business information in my planner. I need to let the programs that I have on the computer, or built into the shop track most of the stuff I was trying to fit into my Erin Condren Planner. What I really need is a monthly overview with important dates, a monthly to-do list, if I have swag donations, if I need to purchase shop supplies and social media stats and then a weekly spread with room for a daily to-do list. During my trial run of everything being in my B6, I did find that a daily planner, worked for me. I seemed to stay on task better and was more productive during my day. I was using this insert and it was great. I may keep that in the back of my mind, should the inserts I bought for the business not work for me.
I wanted something super simple. I wanted a daily to-do list, as it makes my day in the office much more productive. I was using the Erin Condren Planner like a perpetual to-do list; which looks busy and causes the page to look very full.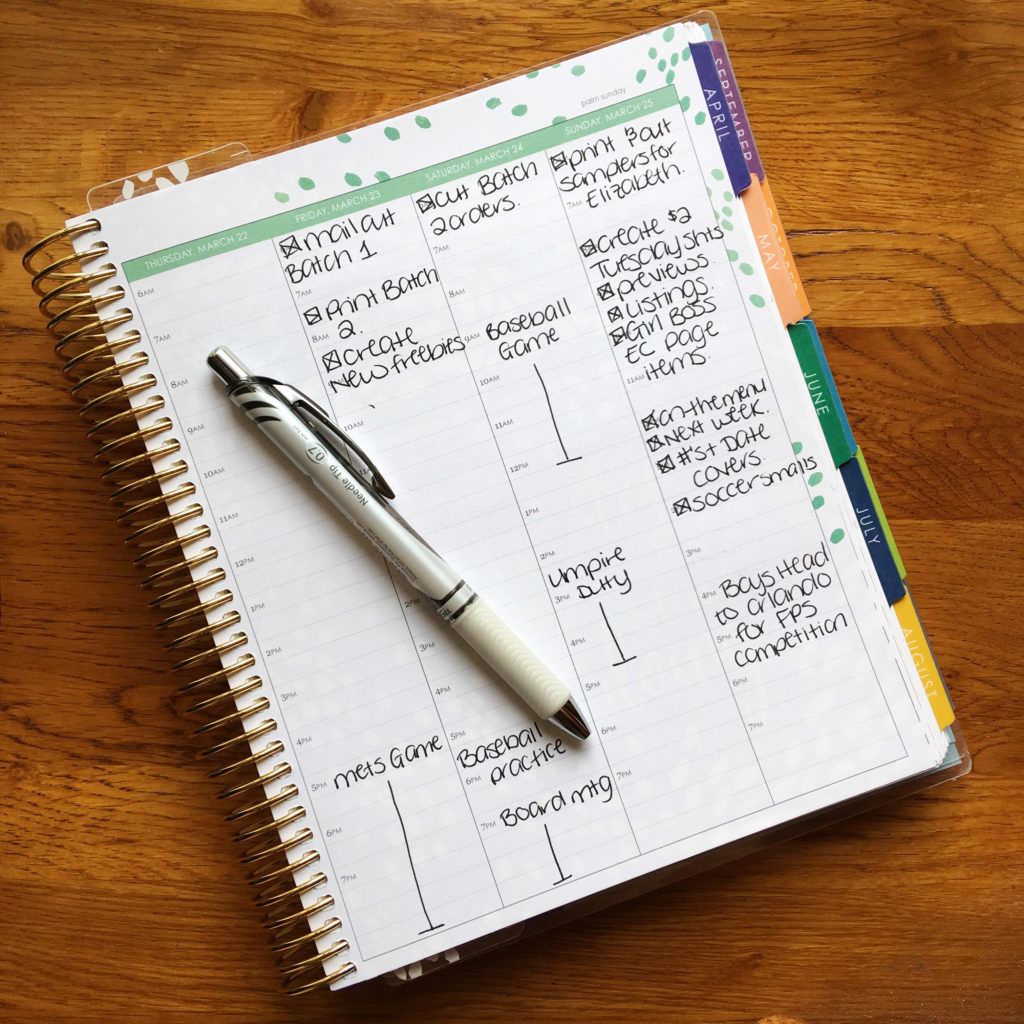 It does mean I have to sit and plan the evening before, but that takes 10-15 minutes to plan out my next work day, and I do that in the evening while watching TV. Sometimes I build my to-do list for the next day/week as I'm working, so I don't always need to sit and make a list every evening.
I decided to purchase this monthly overview and this weekly layout from Peanuts Planner Co. I did modify the monthly overview a little and changed the "bills due this month" box. These layouts are super simple and will allow me to just jot stuff down and they will, hopefully, be functional. I didn't re-print, or add a monthly calendar, as I am going to keep everything on my main monthly calendar, but only in the A5 planner. The B6 one will only have our personal plans on it, unless it involves a business trip/planner meet-up for me as my deadlines etc. won't stop me from going to the doctor, scheduling a parent/teacher conference or whatever appointment/meeting I need to add to the calendar.
The only other insert that will be in my travelers notebook is the meal planner insert from Lights Planner Action. I have been using it for a while and it works perfectly, so no need to change that.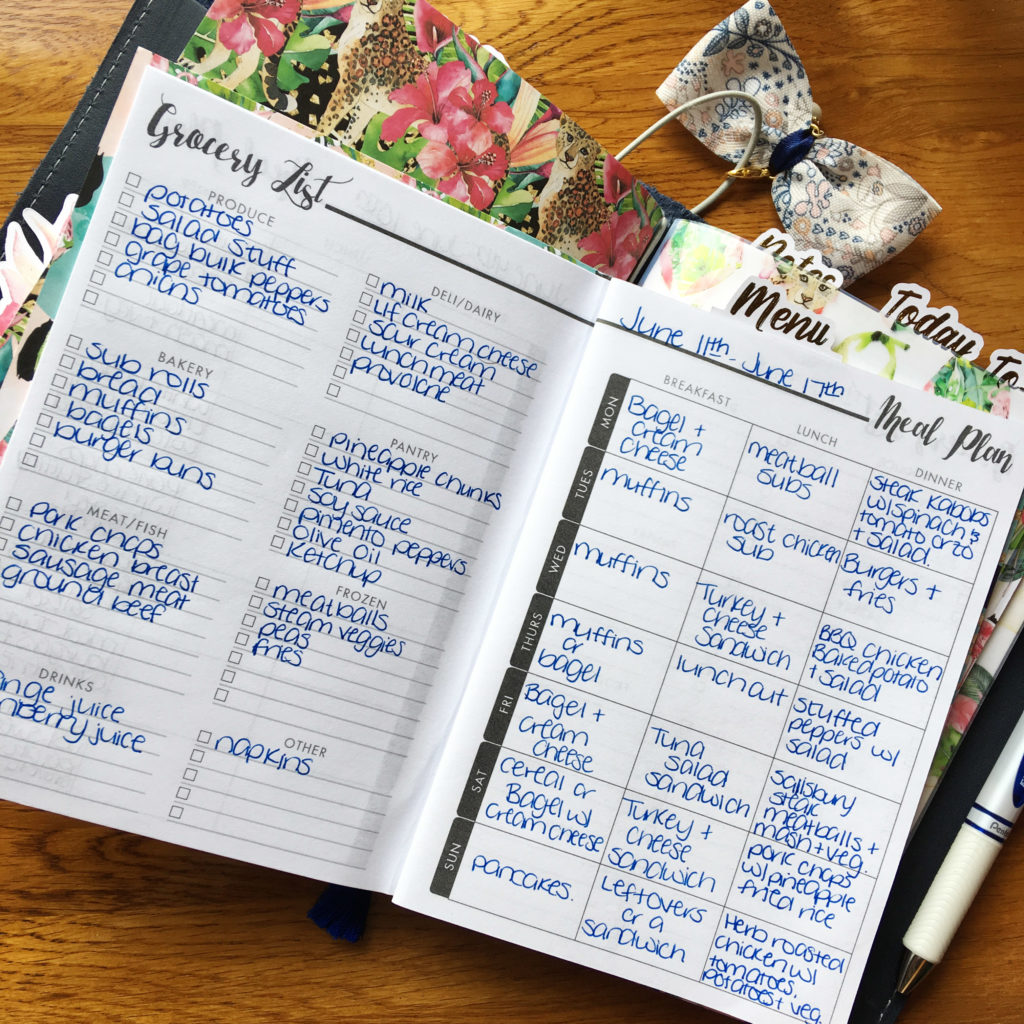 I know it seems as though I just decided on inserts, but I can tell you, it took me a LONG time of looking at all of the amazing shops that I already love, plus A LOT of Etsy and Google searches before I came to the decision on which inserts I chose to use for July. I not only spent time on my laptop browsing shop after shop, but I also sat and reflected on what my planner needs were. What was it I needed in order to keep my planner functional and keep me productive. Until I decided to participate in One Book July, I don't think I have spent that much time thinking about what I need my planner to do for me. I've always just bought inserts based on how I've seen them used, or what I think I want in my planner.
Now that I have my inserts printed, punched/stapled and into my planners, I guess it's time to put all of this pre-planning into action and see how this system is going to work for me. During July I will be doing a blog post each week to update you with my progress. How are you planning in July?