Why Hello! It's been a REALLY long time since I blogged about a project or anything for that matter. I'm hoping that this kicks the blog back off and I can get better about blogging again.
October Occasionally.. what on earth is that? To be fair, I didn't know what it was until an Instagram friend shared with me that she was considering taking on the project. She explained that it's similar to December Daily, where you document your days throughout the month of October. The "occasionally" part comes in that you don't have to document the 1st – 31st, you can document your spooky adventures occasionally! I have done December Daily albums in the past, but an October album to document all things spooky?!?! Oh, I'm IN!
That lead to a whole rabbit hole of YouTube videos – I'll share some of the ones I watched below, and I was hooked! In the videos I watched they used 4×4 albums. I loved the look of the album once it was completed and decided that was the route I was going to take with mine. Something small, to document just my favorite parts of October. Totally doable, especially since I wasn't going to be telling big stories, just small glimpses. I don't know if this is a project I will continue year after year, like Project Life, so I thought having a cute album for everything Halloween-y would be perfect!
I never plan out a scrapbook project, hello unfinished December Dailies, but for this one, I wanted a game plan. I made a list as I watched videos on things I'd like to include in my album. I included the types of pages I wanted to create – small flip-outs, tag pages, etc. and then organized my list with those items. This now gives me a road map of what I'm creating when I sit down at my desk to work on the album. I have completed the cover and one other inside page, at the time of writing this post, and having a plan has been super beneficial. It's made completing the pages in one sitting more manageable.
I shared this list over on my Instagram feed, but I'll share it here, just in case you'd like to join me or need some ideas of things to include in your album.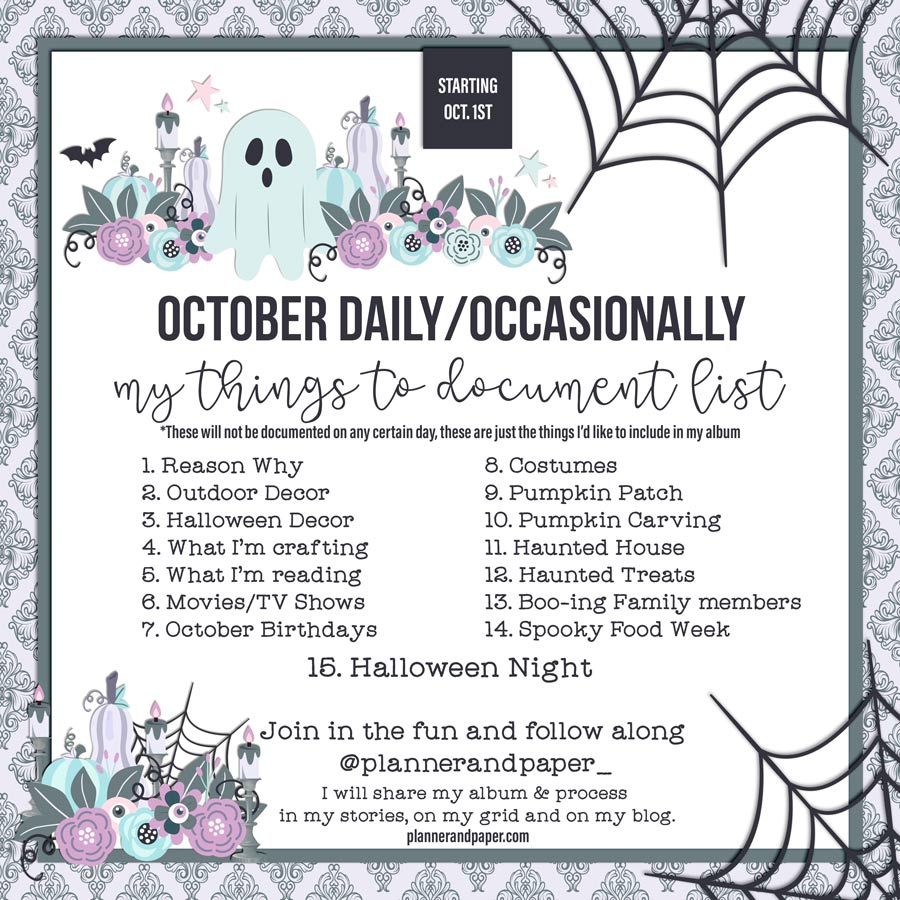 Now for the fun part. What am I using to create this album? Here's a linked list of the items you'll see featured in my album. I will of course link anything additional that I use as I share my progress.
Supplies:
YouTube Videos:
I will be sharing all of my progress with the album over on Instagram, here on the blog, and on my portfolio page.
I am excited to get started on this album and document my absolute favorite time of the year. I hope you'll join me!